---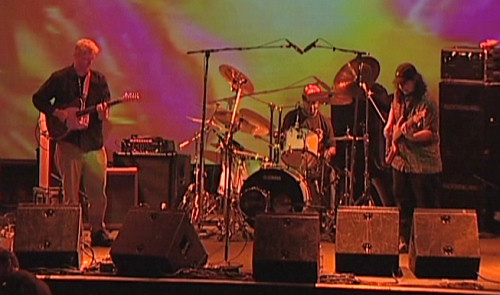 improvisational-funky-jazz-rock and stuff
---
Note: The name of the band is "(unpronounceable)" in all lower-case and inside parentheses. This is partially to distinguish us from the band called The Unpronounceable from Northeastern Pennsyltucky.
(unpronounceable) is an instrumental guitar, bass and drums trio from the Oakland/San Francisco Bay Area. They started out in late 2003 as a bass/drums experimental duo with Dave Grossman on electric bass (with some live-looping) and Jan Jackson on drums. In early 2004, Kelly Back joined on electric guitar.
In (unpronounceable), all musicians, on average, have equal say and equal weight in the music. Most songs are written or at least developed as a group and each musician will generally develop their own parts. Each musician strives to both support and compliment the other musicians achieving a high level of interaction that often makes purely improvised music seem composed.
The style of (unpronounceable) is difficult to describe. All members of the band have roots in Jazz, Rock, Funk, Fusion, Classical, Blues and other genres. However, most of their music fits either in between or outside of normal classifications. Improvisation is a major element of their music ranging from completely improvised sections to composed parts with some improvisation to purely composed.
(unpronounceable) is also characterized by strong musicianship. Their members are committed to their continued musical development individually and pushing the edge of the musical envelope as a band.
Kelly Back - Guitar
Kelly Back was born and raised in the bootheel of Missouri. More Mississippi delta than midwestern cornfields, Kelly grew up hearing country, blues, and plenty of southern rock. Soon he started exploring the worlds of fusion and jazz and his course was set. After studying music at a few different schools Kelly decided it was time to get out and get some real playing experience. A year after playing clubs he headed to Nashville...to play more clubs. Also around this time Kelly befriended musical virtuoso Shawn Lane. Shawn opened up Kelly's eyes to many different musical cultures and pushed him to develop his own musical path. Now living in the Bay Area, Kelly splits his time between (unpronounceable), a blues band, and trying to play as much music as possible.
Dave Grossman plays 7-String Electric Bass (fretted, fretless and piccolo). Having started with guitar at age 13, he switched to bass a few years later. In the mid to late 1980's, Dave played in various party and jam bands in high school. Dave's style and technique began to take form even in the early years as he gravitated towards improvisational and contrapuntal music. In the early 1990's, Dave began to take a strong interest in the music of the Baroque composer, Johann Sebastian Bach while gigging occasionally with his original/cover rock band and various improvisational projects. Since then, Dave has been continuing to work on arrangements of Bach's solo cello and solo violin works while playing in (unpronounceable).
Jan Jackson - Drums
Drummer Jan Jackson grew up in a musical family on Long Island. Following his older brothers lead Jan picked up the sticks and proceeded to woodshed day and night to everything from Steely Dan, Weather Report, and Miles to Cream, Band of Gypsies, and the Meters. Elvin Jones, Tony Williams, Bernard Purdie, Harvie Mason, Weather Report, and Jeff Beck were just a few of the many sounds Jan was learning from. While in his late teens the call of youth led Jan to leave New York and head for California. After living for a while in Los Angeles Jan made his home in the Bay Area. Jan is known for his solid time, great chops, and vast knowledge of odd times. Many musicians including Will Bernard, Beth Custer, Jai Uttal, Flowtilla, and Chuck Berry have all employed Jan's skills on many occasions. Currently he splits his time between (unpronounceable), the Beth Custer Ensemble, Will Bernard and Motherbug, Slydini, and freelance live gigs.
---