The contents of this site are the result of over 10 years of research with dozens of books and a couple of videos. At some point I will try to list them here. Currently, all of the material at this site was created by me based on this research. As other people provide material for this site, their contributions will be noted here.
I'd like to give credit to the Jazz Guitarist,
John Scofield
whose instructional video 'John Scofield On Improvisation' ( available at:
http://www.buymusicbooks.com/
) inspired me to create my original computer generated charts in the early 90's.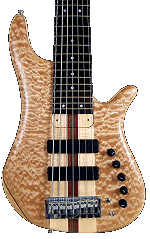 Also, I'd like to give credit to my friend and sponsor of this site, Pete Hanewinckel of
Hanewinckel Guitars
. Pete is currently building me a Seven-String Bass which has inspired me to work on this site again. Watch for Dave's Seven-String Bass Page in early 2001! :-)
| | |
| --- | --- |
| Copyright ©2000 | |
http://www.davegrossman.net/guitar-and-bass/guitarlefty/