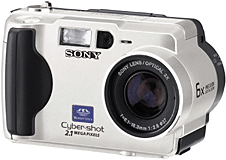 All the photographs at this site were taken with a Sony DSC-S50 Cyber-Shot Digital Camera ( 2.1 Megapixels ).
Click on a thumbnail image to view the full-size image. You can click on the full-size image to get back to the main page for that image topic.
Images are saved as JPEG's with a compression level of 10. Image dimensions are generally 800x600 for landscape orientation and 480x640 for portrait orientation. Processing of most images was limited to resizing and sharpening but others required a tone balance due to poor lighting. File sizes range from 100kb to 300kb for 800x600 size images and less than 100kb for smaller images.
All photographs are copyrighted © 2001 (unpronounceable) Productions.

Permission for non-commercial use of these photographs is granted but credit and a link ( where applicable ) are requested. If you do use any of these pictures at your site, please let me know.